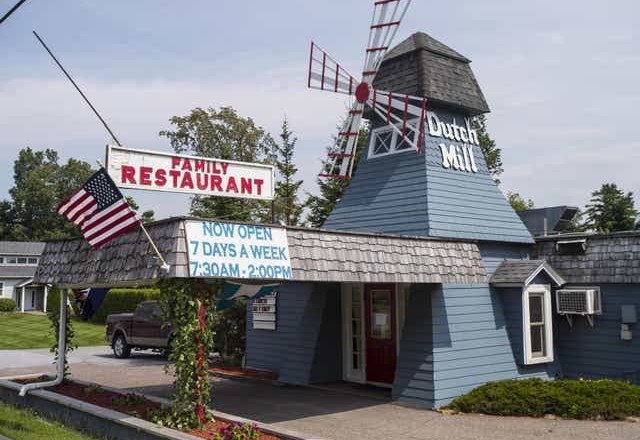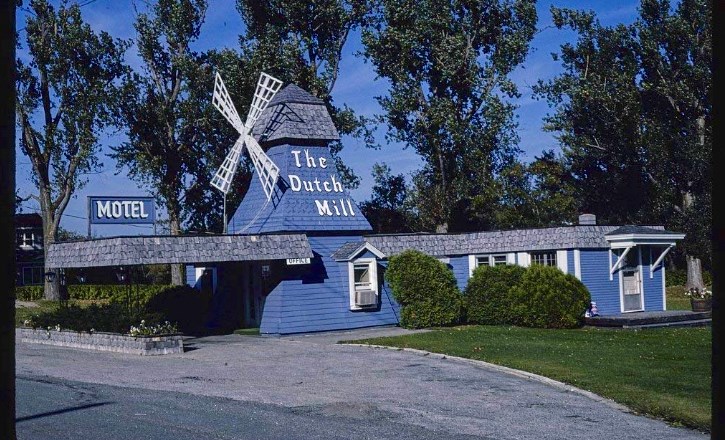 Many local seniors remember when land on both sides of Shelburne Road (U.S. 7) was open farm land. This started changing in the mid 20's when on this property, where the Dutch Mill Restaurant - Motel - Shelburne Camping Area now stand, the original windmill building and 25 overnight cottages were built in a crescent lined with poplar trees. Two houses were built and each was destroyed by fire. A third house was built with 12 rooms where the Bissonettes raised three sons and a daughter. In 1982, the house was remodeled into the present gray office building just north of this restaurant.
The cottages were the only accommodations of their kind in the northeast. Many fascinating stories have told about activities here during the prohibition days. Seniors also relate to the thrills of seeing the lighted dome and windmill blades.
Since it was built, there have been six owners. Charlie and Corrine Bissonette purchased the property from Carlton Hicks in 1968. They added 14 cedar chalets (moved down from Canada) which totaled 48 cottages. The older ones were given a face lift and the Bissonettes received an award for preserving this landmark. However, in the '70's when expensive repair was needed to continue the cottages in their use, the cost would have been too great. Modern motels had been built nearby and the era of the overnight cottages had become a thing of the past. The cottages were moved onto common foundations and the three motel sections were formed as they appear today. Some of the cottages had to be removed; material from them was used to build the dwelling at the end of the motel. Shelburne Camping Area was established in 1973 behind the motel - work done by the Bissonette family.

The Dutch Mill Family Restaurant opened in July 1995 - construction again being done by the Bissonettes. Much of the material from the older cottages was used in this restaurant. The counter section was built from one of the dying poplar trees from the crescent.

Remodeling construction done by oldest son Chris. Lighting in the restaurant is father Charlie's imaginative creation from tin cans, giving a soft, warm glow at night. Interior decorating and history by mother Corrine. Youngest son James oversees daily food service.

Enjoy the home-style cooking in this historic landmark building, and do come again.